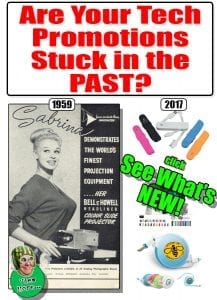 Technology is changing with amazing speed and as such those changes are now reflected in the unique new choices of the promotional products, we as marketers need.
Tech in promo, whose main claim to fame was once was the Sham-Wow has become far more varied, cool and desirable. Geek is the New Sexy!
The Millennial.
Simply put, Millennials of any age are tech savvy and tech swayed. Give them something cool with a well placed logo (your business logo) and they will use it, love it and show it off.
So what are we looking at for ideas.
Custom Shaped Promotions. (Power banks, USB, Speakers, Cables all in custom shapes like the marketers product or logo)
Cables and chargers. (on the go geeks want connectivity)
Design: Its gotta look cool.
Below are just a few examples. For more go to www.promocrunch.com
[foogallery id="5235″] [foogallery id="5595″]