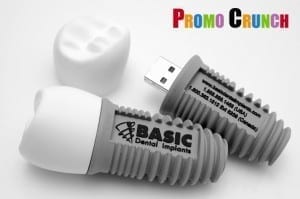 Generally speaking, Dentists are poor marketers. They shouldn't be!
Here's why.
Their clients have a wide selection of competitors to choose from.
Clients are "attracted" to generous service providers. Providers who show appreciation for their clients business.
When someone leaves the dentist with a large invoice and a sore mouth (clients perception) if they get a little "thank-you" as they leave….they feel better…..
Promo Crunch supplies some cool dental ideas….the custom Dental Implant USB is just one of them.
Min order 250 units, inexpensive, useful and with your logo on it…….How cool is that?
call 888-908-1481 for info or email us here