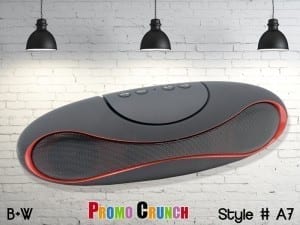 Bluetooth speakers are everywhere these days and it's, frankly, rather hard to tell one from the other. Rather than hold one speaker above all as the end-all solution to your wireless music needs, let's instead take a look at the entire gadget category and highlight which features you want for the best experience.
What's a Bluetooth Speaker and Why Do I Want One?
Although you've likely seen them advertised or on the shelves of your local electronics store, you may not be intimately familiar with the Bluetooth speaker gadget market. Let's start everyone off on the right foot by covering a few basics.
[foogallery id="3227″]
What Is a Bluetooth Speaker?
Under normal circumstances, speakers need a cable linking them to an audio source (be that cable a pair of speaker cables running to a full blown stereo system with an amp or just a simple 3.5 mm phono cable leading to an iPod).
Bluetooth speakers eschew this physical-cable limitation by relying on the same Bluetooth protocol and audio system that underlies Bluetooth wireless cellphone earpieces and in-car Bluetooth speakerphone systems.
That's the most elementary and primary component of any Bluetooth speaker on the market. Beyond that there are dozens of big and small variables that distinguish (or fail to distinguish) different Bluetooth speaker makes and models from one another.
How Are They Different from Wi-Fi Speakers?
Bluetooth speakers are different from Wi-Fi based audio solutions, like the whole-house Sonos system, in several key ways. First, Bluetooth solutions are typically meant to be highly portable whereas whole-house solutions are usually installed permanently or semi-permanently in fixed locations.
Second, Bluetooth speakers link directly to their source (usually a phone or tablet) and require no intermediary whereas whole-house solutions require the Wi-Fi network to bridge the source and the devices. This also allows whole-house networks to broadcast the same music stream to multiple and distance speakers, however, a feature impractical for Bluetooth speakers that have a roughly 30 foot range.
Finally audio quality is slightly higher on Bluetooth systems than on Wi-Fi systems (all other variables the same) simply because of the nature of the transmission; practically speaking this is a non-consideration; however, as under casual listening conditions the difference would be indiscernible to most.
Why Do I Want One?
Bluetooth speakers, despite the hyper-saturated market and near ubiquity at this point, aren't for everyone but they might just be for you.
If you're looking for a convenient way listen to music away from your computer, home stereo system, or car and you want to listen to music that is digitized (be it via streaming or files stored on your phone or tablet) then a Bluetooth speaker is pretty much exactly what you're looking for: a portable speaker that links wirelessly to your phone.
Bluetooth speakers are great when you want to take music to the beach, out on the back deck beyond the reach of your traditional stereo, or anywhere else you'd traditionally take a portable stereo.
That last bit is worth noting. There are, in fact, Bluetooth powered home audio solutions that are meant to replace traditional stereo systems, bookshelf speakers, and other audio fixtures. The focus of this buying guide is on portable units that you can easily move around your house, take out to the yard, and beyond.
Meet the Models
Like with our guide to external battery packs we've rounded up models to use as examples. For the purposes of writing this guide, providing photographs for reference, and field testing, we used two Bluetooth speakers: the Braven BRV-1 Portable Bluetooth Speaker ($92) and the NYNE Bass Outdoor Performer ($150).
Both speakers are excellent within their respective weight classes and offer us a chance to highlight a wide range of Bluetooth speaker features.
Bluetooth Speaker Shopping: A Feature-by-Feature Breakdown
With a better understanding of what constitutes a Bluetooth speaker and having met the models we'll be primarily referring to, it's time to dig into the general feature sets found in Bluetooth speakers and how they related to your speaker needs.
Form Factor
While it's easy to get caught up in the other features, the first thing you should look at when shopping for a Bluetooth speaker is the physical dimensions of the speaker.
There's no faster way to be disappointed in your purchase than to spend a bunch of money buying a new Bluetooth speaker only to find that it's way bigger (or smaller) than you anticipated leaving you with a speaker that's really inconvenient to bring the places you want to bring it (or so small it lacks the space for the physical speakers to deliver the sound you crave).
Bluetooth speakers generally fall into two primary size categories. On the one side you have the ultra-portables that aren't exactly pocket size but could easily be stuffed in a coat pocket, small bag, or purse. The Braven BRV-1 falls soundly into that category with a volume roughly that of can of soda (albeit a bit boxier). You won't be sticking it in the back pocket of your jeans but at such a small size and weighing only 12 ounces, it's easy enough to toss it in a bag and take it with you.
The NYNE Bass, on the other hand, represents the semi-portable/table-top end of the Bluetooth speaker market. It is most certainly not coat pocket friendly nor even suitable for a small bag or purse. It's roughly the size of a breadbox, large enough to merit a carry handle molded into the upper portion of the unit, and weighs 6.6 pounds (nearly 9 times heavier than the Braven).
Now, before you fall under the spell of miniaturization and small form-factor consumer electronics let's take a look at the other features to see where the trade-offs arise when opting for one speaker weight class over another.
Speaker Size, Arrangement, and Wattage
One of the primary trade-offs when it comes to which form-factor you opt to purchase is the size and arrangement of the speakers. Almost universally bigger form-factor Bluetooth speakers include beefier speaker arrangements.
Really low-end Bluetooth speakers often only have a single speaker concealed inside them and delivery lackluster low-watt mono sound. Most speakers have stereo speakers with two channels. Nicer speakers have 2.1 channel sound with a subwoofer (however compact it is compared to a traditional home stereo subwoofer) hidden away in the case.
Our first model, the Braven BR-1 has 2.1 channel sound spread between two active speakers and a passive subwoofer with 6 watts of power spread between them. The NYNE Bass, as you'd anticipate, has significantly larger speakers in a 2.1 arrangement with 35 watts of power spread between two active speakers and an active subwoofer. The footprint of the subwoofer in the NYNE unit is nearly as big as the entire Braven unit, for comparison.
Speaker size and power certainly matters; for its weight class the Braven sounds great and can hold its own against other ultra-portable Bluetooth units but as soon as you fire up the Nyne the increased soundstage and enormous bass boost of the larger unit just obliterates the sound from the Braven.
Both units feature a typical speakers-forward/subwoofer-down arrangement. Some Bluetooth speakers deviate from this arrangement by facing speakers up, using open-backed speakers to create the illusion of omni-directional sound (or even by including multiple speaker pairs to actually create omni-directional sound like the six-driver arrangement of the Fugoo), but these deviations are rare compared to the classic two-forward/one-down setup.
The take away from this section of the buying guide is that larger speakers and higher wattage translate to more volume. If you want music that can be heard over high ambient noise levels, a crowd of your friends, or from far away from your beach blanket, then you're going to need a larger speaker set with more power.
Battery Size and Battery Sharing
Bluetooth speakers are portable and like all your portable electronics they need power. When comparing the size of the battery in your Bluetooth speaker, however, it's not as simple as just looking at the total mAh of the battery.
There are two factors to consider when contemplating battery size. First, there is the battery size relative to the power demands of the unit itself. Our two models, for example, have two radically different batteries. The Nyne has a huge 4,400 mAh battery but the Braven only has a 1,400 mAh battery.
Despite this significant difference the Braven requires significantly less power to run thanks to a smaller design and less demanding speakers and can run for around 12 hours on a single charge whereas the beefier Nyne unit can run four around 10 hours.
When you're strictly comparing playtimes, it's best to go off the manufacturer's estimated playing time instead of trying to use the battery capacity as an estimate (as each unit will use that battery power with a greater or lesser degree of efficacy).
Where absolute battery capacity does matter, however, is if you wish to battery share with your Bluetooth speaker.
While this feature is largely absent from lower-end speakers, most mid-to-high-end speakers have it (both of our models do). Battery sharing allows you to plug a USB cable into your speaker just like you would plug a USB cable into a battery pack and, with the click of a button, supply juice to your mobile devices like phones and tablets.
In the case of the Nyne's beefy battery, for example, you could go to the beach and listen to music for around five hours (depleting the battery roughly 50 percent) and still have enough juice left over to use the speaker as a battery pack and fully charge your phone.
The battery sharing feature is a handy feature to have on any speaker, even those with smaller battery packs. The Braven's total battery capacity for example is only slightly less than the battery of an iPhone 5. This means if you bring your speaker along and end up not using it, you can still treat it like a battery pack and squeeze out a full phone charge.
Ruggedized Construction
If you're looking for a big speaker to place out on the patio, ruggedized construction might not be a high priority. If you're looking for a speaker to take to the beach, however, a speaker that can survive a splash or two becomes more important.
There's not specific definition of "ruggedized" as far as the Bluetooth speaker market is concerned, so you'll need to read the fine print for each speaker you consider.
The Nyne, for example, is a very sturdily constructed unit (the edges of the unit are rubberized, and we're fairly confident it could survive a tumble to the patio surface just fine), but the manufacturer makes no claim that it is a ruggedized unit.
The Braven, on the other hand, is specifically advertised as a waterproof ruggedized Bluetooth speaker that can withstand full submersion for up to 30 minutes in one meter of water. We've dunked it in buckets, stuck it in the corner of a shower (and, by the way, it sounds absolutely fantastic when combined with the acoustics of a tiled bathroom), and kicked it around (metaphorically that is) at the beach. The speaker is designed for the moderate abuse that a beach goer/camper would throw at it and includes features such as sealed speaker membranes, a waterproof case, and a rubber-sealed cap that fits over the ports when they aren't in use.
Speakerphones and Auxiliary Access
Although not every speaker comes with these two features, they're welcome features when they do. The more common of the two is auxiliary access via 3.5mm phono jack.
Bluetooth is obviously the central focus in the design of these speakers as it frees us from wires, but there are moments when you still want to use the speaker but don't have a Bluetooth sound source (or the Bluetooth isn't functioning correctly). In such cases it's extremely handy to fall back on a wired connection and plug your phone, portable device, or other audio source into the speakers via a plain old 3.5mm phono jack.
The second consideration is speakerphone access. Whether or not this feature matters to you is entirely contingent on your feelings about speakerphones in the first place, but if you like using the speaker phone feature on your cellphone it only makes sense to supercharge the experience by linking the phone's speaker function to the significantly richer and clearer sound of the Bluetooth speaker.
Both the Braven and the Nyne feature not just functionality as a speakerphone speaker but a built-in microphone. Even if your phone is in the kitchen charging and you're out on the patio listening to the speaker you can press a button on the unit, answer the call, and use the built-in mic to talk. Press the button again to hang up and the music automatically resumes.
Bringing It Altogether
When it's time to actually do some shopping, prepare to be overwhelmed by the sheer number of speakers on the market. To brace yourself for the tidal wave of units even a simple search yields, read over the feature list above and prioritize your needs.
If you need a unit that doesn't need a duffle bag of its own, focus on small form factor. If you need a speaker that can cut through the noise of the beach and provide tunes all afternoon, focus on large form factors with hefty batteries. If you need something can survive rain storms and your camping buddies dropping it, start with ruggedized models and narrow it down from there.
Thanks to the explosion of the Bluetooth speaker market and the tens of thousands of feature combinations, there's practically a Bluetooth speaker for everyone.