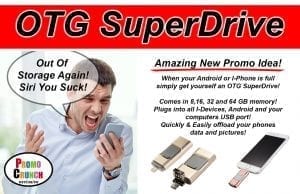 In this Data-Driven world we often find that our phones, and other portable devices are quickly out of storage. When Siri says "Please delete older files to add new ones" tell Siri to "get lost"!
Now transferring and saving files is easier than ever. Simply get the High Memory OTG SuperDrive!
The OTG SuperDrive comes in sizes including 8,16, 32 and 64GB in memory. It has 3 plugs. Android, Apple and a regular USB!
Move files from phone to computer easily and without data charges! Inexpensively expand your phones data with the OTG SuperDrive!
and now…YOU CAN PUT YOUR LOGO ON IT!
Call Promo Crunch at 888-908-1481 or email john@promocrunch.com for prices and details.