A phone holder is an expanding grip. A convenient smartphone stand. Plus a great way to show off your business style and logo, whenever you want, however you want!
Add a single POP Phone Holder, or a pair of POP's, to the back of almost any mobile device to transform your smartphone into a marketing juggernaut. Whenever your phone needs a grip, get a grip with the POP popable phone holder.
Pop phone holders not only make terrific phone grips and phone stands, they also make holding tablets and e-readers more comfortable and secure.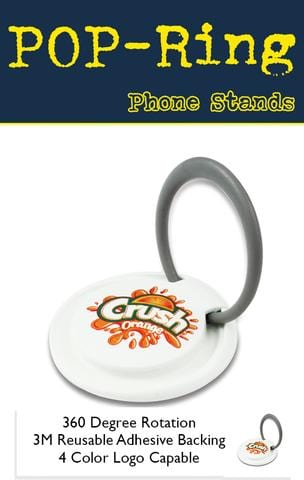 What are Phone Holders?
POP phone holders are small plastic contraptions that feature a"popable sytem extension" that can be placed onto the back of your phone.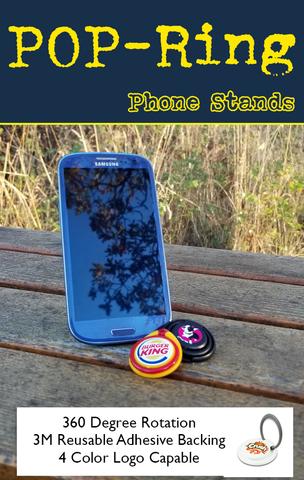 They are made of three parts: a logo disc, a flexible popable stem, and a Circular, Square or Octagonal base that sticks on your smartphone phone.
Why do you need one? What do they do?
A Phone holder gives you more to hold onto while you use your phone, reducing the risk of everyone's biggest fear – the dreaded screen smash.
A good time to use a Phone holder could be when you're working your way through a busy crowd while texting, taking a selfie in a non-carpeted room, or filming an angry protest where Kendall Jenner isn't there to calm things down.
You can also use them to prop your phone up while watching a video, or stick on two and wrap your headphones around them.
Tradeshow Swag?
Absolutely! Tradeshows are the perfect pairing to go with any POP phone holder. They are inexpensive swag and provide an amazing return on your marketing investment.
For more info call 1-888-908-1481 or email john@promocrunch.com for details. Visit the Popable Phone Holder Gallery here.